The Sedona Unwinding Retreat
Wednesday, May 8 – Saturday, May 11, 2024
Liberate your body from accumulated stress, emotion, and pain. Awaken to your inner source of healing and transformation. Get a vision for your next evolutionary step.
This Retreat includes:
Body Unwinding in Sedona's Energy Vortexes
Mindful Mountain Climbing
Rejuvenating Hikes
A Life Changing Adventure
Accommodations not included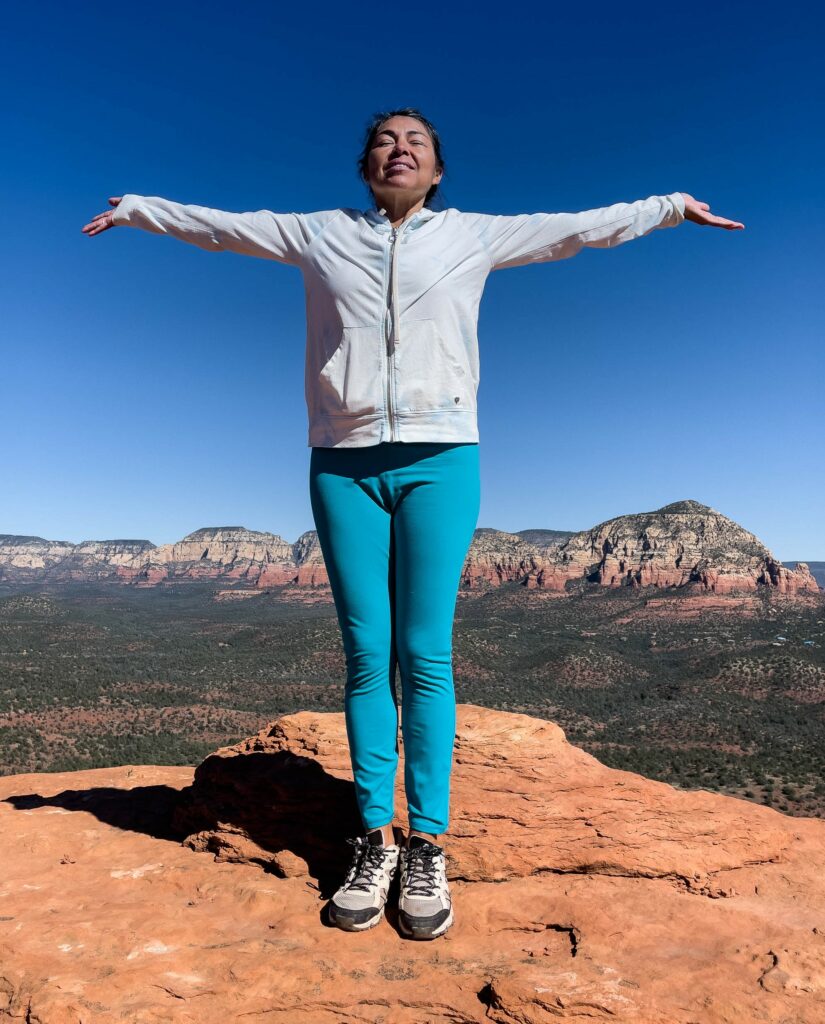 One of the best things I've ever done.  It was deepening, confidence-building, joyous, spiritual, and sometimes intimidating. Seventeen years later, I'm still learning lessons from it.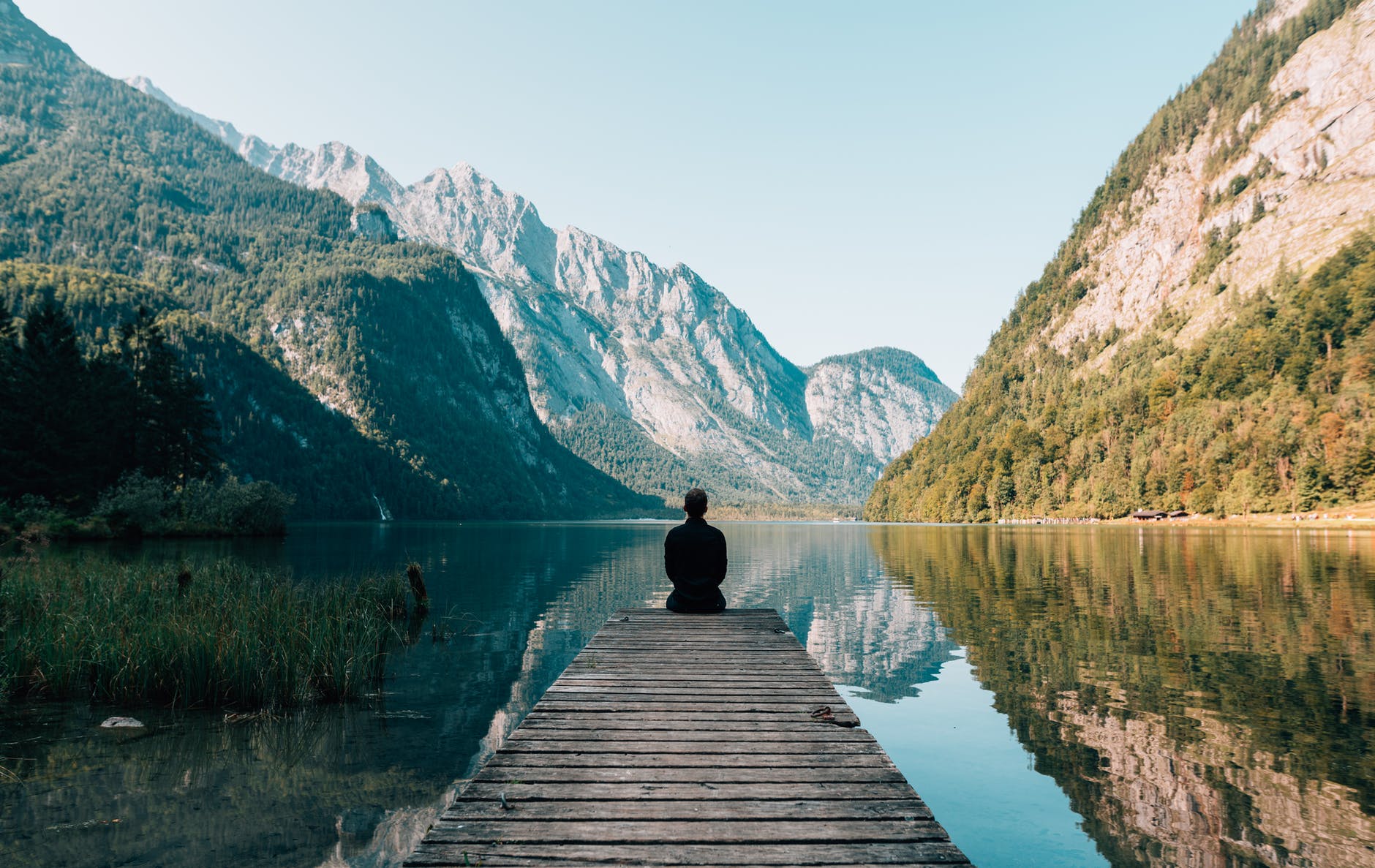 Poppy C.
What Other People are Saying…
A Journey of Transformation!

The Sedona Unwinding Retreat is a 4-day adventure in the energy vortexes of Sedona, Arizona's red rock mountains. The retreat group meets each day at 9:30am with food, water, and backpack ready to go!

As a guide, Jonathan will lead the group to some of the most beautiful and powerful areas of Sedona to experience inner transformation and spectacular site seeing.

Within Sedona's red rock mountains exists high concentrations of quartz crystal and iron which amplifies the natural electromagnetic energy of the earth. When a human being is within these rare and powerful earth-based vortexes, it turbo-charges their own energy field. It is within these energy vortexes that the retreat group will engage in body unwindings, spectacular site seeing, hiking, climbing, and play.

This retreat has been a transformation miracle for me. I released lifetimes of grief that weighed so heavily on my heart. I cannot imagine what the future holds but I look forward to the challenges ahead with a newfound sense of exhilaration, confidence, and joy.
Take Your Next Evolutionary Step!

Photo by Matt Kosterman

This Retreat is designed for almost everyone to participate. Hiking and climbing are performed meditatively, with focus and awareness However, it is not always easy. Expect to be challenged and experience a workout. Mountain climbing will pump blood, oxygen and the vortex energy through your body which will support and maximize the transformational flow-state of your body unwindings.

In addition, challenges experienced during mountain climbing help you to overcome fear, receive help and support from the group, and discover inner-resources for strength and power.

If you have health conditions, concerns, or physical challenges that you think may impair your ability to participate in this retreat, in any way please contact Jonathan.
Travel / Accommodations

The Sedona Unwinding Retreat does not include travel and accommodations. Below is some information to assist you in making these reservations.

Airport

There are two airports proximal to Sedona. The main one is Phoenix "Sky Harbor" International Airport (PHX). If possible, fly into this airport no later than 4 pm. It is a two hour "scenic" drive from Phoenix to Sedona and you will appreciate the daylight for road visibility and to admire the scenery.

The second airport is Flagstaff Pullum Airport (FLG). It is a small airport, primarily operated by American Airlines, but located only 40 minutes from Sedona.

Where to Stay
The retreat group meets each day in West Sedona. Below are locations within and around Sedona and the approximate driving time, depending on traffic, from those locations to the meet-up site.

Uptown Sedona: a 10-minute drive
The Village of Oak Creek: a 20-30 minute drive
Cottonwood: a 30-minute drive

Camping
Most camp sites require reservations. To inquire, contact: Sedona Visitor Information Center

Sedona Map
This map is free and provided by Sedona.tv

A complete packet of information will be mailed to you once you have registered that includes all relevant logistics for the retreat, what to wear, and gear.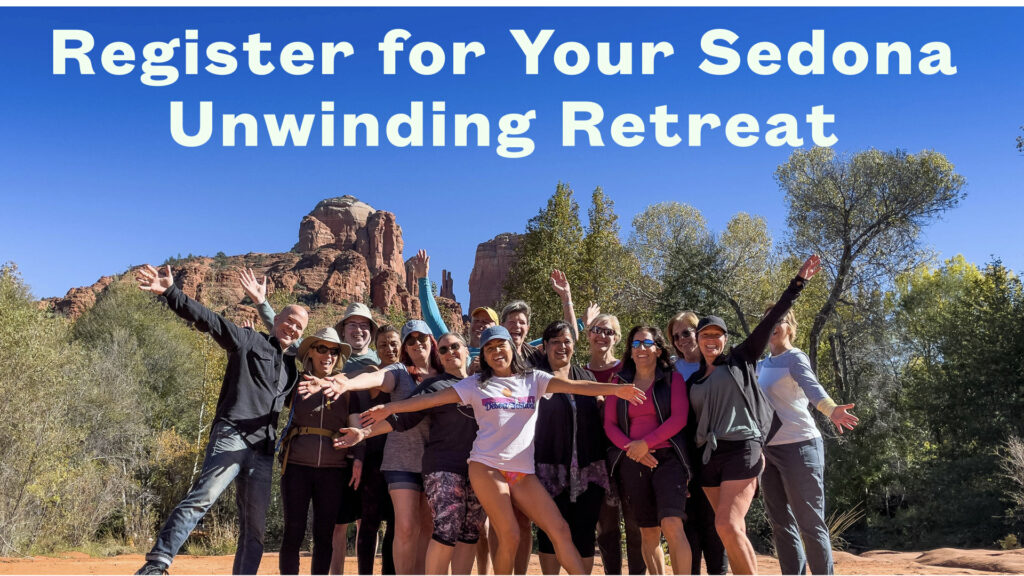 Spring 2024
Wednesday, May 8- Saturday, May 11, 2024
---
Spring 2024: SEDONA UNWINDING RETREAT
Secure My Space $995.00 Add to Cart
FRIENDS & FAMILY DISCOUNT!!
Sign up 2 people at once and save $100 each
Use code FRIENDS at checkout
---